Sledge Bloworth
Statistics
Names
Sledge Bloworth
Height
6'5
Weight
256 lbs
Born
August 13th, 1987
Birthplace
Odek, Uganda
Died
N/A
N/A
Resides
Uganda
Billed from
Uganda
Trained by
Dory Funk Jr. Gym
Debut
2013
Retired
N/A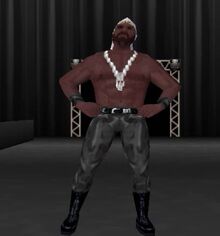 Sledge Bloworth is a Ugandan professional wrestler and an alleged African warlord. He made his debut in 2013 during a New Blood Battle Royal for DCO that included several other new superstars. Afterwards he would relocate to his home country of Uganda, where he would be indicted for war crimes and crimes against humanity, but would evade capture.
After being gone for four wars, Bloworth would return during the fourth episode of DCO "I Don't Give a Shit" where he would defeat Pvt. Part with a fujiwara armbar. On August 1st, 2017 a mysterious masked man by the name of Sambo Beefrock was signed as an "I Dont Give A Shit" exclusive. Beefrock was an African youth that Bloworth kidnapped and brainwashed to become a child soldier, loyal only to him.
Championships and Accomplishments
Themes
Trivia
Bloworth was the first New Blood Battle Royal participant to be signed to DCO after having initially been rejected following the battle royal's airing.
Ad blocker interference detected!
Wikia is a free-to-use site that makes money from advertising. We have a modified experience for viewers using ad blockers

Wikia is not accessible if you've made further modifications. Remove the custom ad blocker rule(s) and the page will load as expected.