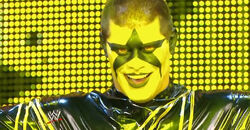 Stardust (kabyface) is a caw wrestler. Currently, Stardust is signed with World CAW Wrestling (WCW), where he is the current Cruiserweight Champion of the World. Stardust is also a former United States Champion before losing the title to Mr. Kennedy at September's Bad Blood. Stardust is from Houston, TX, where the stars at night are big and bright deep in the heart of Texas. That's how Stardust got his name.
World CAW Wrestling (WCW)
Stardust made his debut in December of 2008 at "The Main Event." He started making a name for himself when he defeated Shawn Michaels. At June's CPV, One Night Stand, Stardust defeated Matt Hardy to become the new United States Champion, but he lost to Mr. Kennedy at September's Bad Blood in a Ladder Match. Stardust received another championship opportunity when he became the no. 1 contender to Cruiserweight Title, which was held at the time by Tikwan Coger. At Starrcade 2009, thanks to "The Crimson King" Jermaine Young, Stardust defeated Tikwan Coger to become the new Cruiserweight Champion of the World. At Spring Stampede, he successfully defended his title as he defeated Kenta. Stardust continued his defense as he defeated Paul Phoenix in the Ladder Match at One Night Stand to retain the Cruiserweight Championship. At the next cpv, The Great American Bash, Stardust's luck finally ran out as he lost to Cid Phoenix in a TLC Match. A week later on The Main Event, in the Triple Threat Match, Stardust defeated both Cid Phoenix and TX3 to win back the Cruiserweight Title. This reign was short-lived, however as he lost the title at WCW Bad Blood to TX3.
Championships
World CAW Wrestling (WCW)
United States Champion (1 time)
Cruiserweight Champion of the World (2 times)
Ad blocker interference detected!
Wikia is a free-to-use site that makes money from advertising. We have a modified experience for viewers using ad blockers

Wikia is not accessible if you've made further modifications. Remove the custom ad blocker rule(s) and the page will load as expected.