Sunny Meadows
Statistics
Names
Sunny Meadows
The Groovy Molester
Height
6'2
Weight
251 lbs
Born
1979 (Age 33)
Birthplace
Parts Unknown
Died
{{{death_date}}}
{{{death_place}}}
Resides
Parts Unknown
Billed from
Parts Unknown
Trained by
Danny Jackpot
Debut
{{{debut}}}
Retired
{{{retired}}}
Though he has been seen in CAW before, He has never got a chance to be signed to a big league. Being thrown in developmental league after developmental league until being signed to
New-NAW
. He wont reveal much information other then he likes to hurt people. His name may be something you don't take seriously, but he never explained the name. Possibly thinking hes from the wrong era. "The Groovy Molester" Sunny Meadows. Before being signed anywhere, He would make appearances on FNW Programming where he would win the
CAW Champion of Champions
Title.
Sunny Meadows made a return to CAW on T.Y.S.O.N #3 defeating Sebastian Jenkins. The Groovy Molester would officially sign a contract to T.Y.S.O.N making this the first league he would ever be signed with. He would win a tag team tournament to become one of the first ever
New-NAW Tag Team Championship
along with Simon Dean defeating Garet Shetty &
Butch Polebag
in the finals on T.Y.S.O.N #25. They would go on to be champions for a short while until dropping the belts to
Suspect
& Norm "The Storm Dailey". Going on a slump during the name change from T.Y.S.O.N to New-NAW until Butch Polebag would win a match to earn a Tag Title Shot with a partner of his choice. Butch choose former offline CAW League partner The Groovy Molester. These two would win the title belts from
Andrew Liana
and
Steven Raden
on New-NAW Velocity 4. They would successfully defeat Liana and Raden at
New-NAW Anarchy
in a title defense. They would lose the titles in a Four Team Battle Royal at
New-NAW Caught in the Crossfire
. Since then him and his partner would continue to compete as a team and also in the Hardcore Division.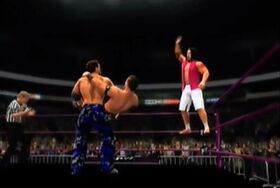 Sunny Meadows would be signed to FNW Interactive being ran on
WEDF Forums
. The Groovy Molester currently is looking to still win FNW Gold, no matter what the division is. He sometimes teams up with tag team partner Butch Polebag time to time.
Sunny Meadows along side Butch Polebag would sign with Omega Pro Wrestling in Summer of 2013. Making their debut in a tag team match defeating Motor City Machine Guns on Soundwave 28. On OPW Episode 29 they would be successful in tag team action again against Sin Cara and Hunico. They would win the OPW Tag Championship from Acid Attack at OPW Terminal Velocity in a steel cage match. After losing the tag team championship he would take time off of television. When he returned to television, He would compete in tag competition until he would win the OPW European Championship when it was vacated after the death of Big Daddy V. This would be his biggest singles title win of his career to date.
He would be one of three superstars to open Jack Swaggers Real American Challenge on a AWP Match-Up though he would unfortunately not win the match.
Sunny Meadows along side Butch Polebag would sign with Koolers Association of Wrestling in Summer of 2013. Making their debut in a tag team match losing to The Brothers of Destruction of HeaT Episode 3.
Accomplishments:
Themes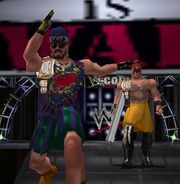 Ad blocker interference detected!
Wikia is a free-to-use site that makes money from advertising. We have a modified experience for viewers using ad blockers

Wikia is not accessible if you've made further modifications. Remove the custom ad blocker rule(s) and the page will load as expected.