Superman
Statistics
Names
Kal El
Clark Kent
Man Of Steel
Man Of Tommorrow
Last Son Of Krypton
Big Blue Boyscout
Action Ace
Champion of the Oppressed
Superboy
The Blur
Red and Blue Blur
Height
6' 3"
Weight
235 lbs.
Born
Birthplace
Krypton
Died
Resides
Fortress Of Solitude
Billed from
Metropolis
Trained by
Debut
Retired
Superman is a DC comic book superhero, dating back all the way to 1939. He debuted in NoDQ CAW with great sucsess, defeating Jason Voorhees in a Ladder Match to win the NoDQ CAW Championship. He is the first, and only, man to hold the NoDQ CAW Championship 5 times in 2004, 2005, 2006, and 2007.
Superman has many other accomplishments in CAW, being the first NoDQ International Champion, winning the NoDQ Tag Team Titles with Link, winning the Bragging Rights Tournment, being SCAW Champion, and Winning the first Slam 'N' Jam Chaos Theory Match. He debuted in Slam 'N' Jam as Clark Kent and teamed with Aquaman until turning on him in 2008 and becoming Kal-El. Superman currently competes in Slam 'N' Jam and SCAW and FCW and many other wrestling companys.
Finishers & Signature Moves
Edit
S-Bomb (Rolling Top Rope Powerbomb Pin)
Super STO (Irish Whip Rebound STO)
Super Sharpshooter/Kriptonian Deathlock (Sharpshooter)
S-Splash (Top Rope Splash)
Championships and accomplishments
Edit
SCAW: Superstars of CAW

SCAW Champion (2x)
SCAW Tag Team Champion (1x, with The Green Lantern)
Match of Destiny Winner (2009)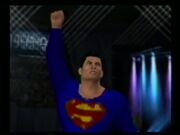 SLAM n JAM

SnJ Champion (2x)
SnJ North American Champion (1x, First)
SnJ Tag Team Champion (1x, with Aquaman)
Chaos Theory Match Winner (2010, First)