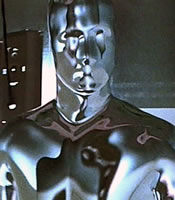 T-1000 is a fictional character from the movie Terminator 2: Judgement Day. In Story Mode Federation he is a former SMF Champion.
He is known for his abilities to shapeshift into different people
SMF Career
Kill_Us.Hifi
Under the disguise of Chris Lowell, T-1000 killed members of the SMF Roster such as Bobby Lashley, Hamburglar, Mr Fenny and Uncle Phil. At the Royal Fumble 2008 Chris Lowell defeated Boom for the SMF Championship. After the match The T-1000 finally revealed himself and aligned himself with Triple H claiming he was going to destroy SMF.
Fued with Green Ranger
Green Ranger aligned himself at first with T-1000 and WWE since Matt Hardy is a WWE Superstar. They both claimed they were going to ruin the Bitchamania main event. T-1000 told Matt Hardy that Lita was distracting him and slowly revealed that Lita was infact Rita and that Green Rangers powers were fading by the power of the Green Candle.T-1000 later lost his SMF title to Bob Sagat in Fatal Four Way also featuring Ronald McDonald and The Rock .He would regain the SMF Championship by tricking Sagat into believing he was Ronald McDonald. Green Ranger sick of this treatment by T-1000 would rejoin SMF but Green Ranger would lose his powers completely on the Smackadown before Bitchamania. However the powers were restored to Green Ranger by Zordon at Bitchamania and lost his SMF Championship in a Hell in a Cell Match. After this match he was released from SMF
Title History
NoDQ CAW
Battle Ground Championship Wrestling

​BCW Hardcore Champion(2 times)
Finishers
Ad blocker interference detected!
Wikia is a free-to-use site that makes money from advertising. We have a modified experience for viewers using ad blockers

Wikia is not accessible if you've made further modifications. Remove the custom ad blocker rule(s) and the page will load as expected.