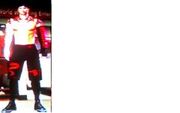 TBD (kabyface) is a CAW wrestler currently signed with World CAW Wrestling (WCW). TBD signed with WCW while the fed was in hiatus. He made his debut on the relaunch episode of The Main Event. Currently, TBD is involved in two rivalries: one with Lemarcus Carter & John Cena for the WCW Championship, and the other with the Straight Edge Society for turning them down about joining the group.
World CAW Wrestling
Before he made his debut, TBD was approached by CM Punk about joining the Straight Edge Society. But TBD turned them down. He defeated The Brian Kendrick in his first match. The following episode, however, he was found out cold by R Truth. At Slamboree, TBD won the Fatal Four Way to become the no. 1 contender to the WCW Title. The next episode of the Main Event, however, he and former WCW Champion Lemarcus Carter would have to face each other to see if Lemarcus will make the match a Triple Threat. TBD had the match won until CM Punk distracted the referee and caused TBD to lose. The following episode, he was put in a match with CM Punk. Despite the rest of the Straight Edge Society members getting involved, TBD was victorious, but after the match, Luke Gallows attacked TBD with the lead pipe. The next episode, the rivalry between TBD and the Straight Edge Society finally came to an end as TBD and WCW Championship John Cena defeated the SES. He battled at Spring Stampede for the WCW Championship, but he came up short. TBD came up short again, this time for the United States Title as he lost to Lil Fly at One Night Stand.
Ad blocker interference detected!
Wikia is a free-to-use site that makes money from advertising. We have a modified experience for viewers using ad blockers

Wikia is not accessible if you've made further modifications. Remove the custom ad blocker rule(s) and the page will load as expected.