The Luchadore Twins (Patriota and Dos Santos) are a TNE Tag Team. 
The Luchadore
Statistics
Names
Pariota and Dos Santos
Height
Don't care
Weight
Don't care
Born
Don't care
Birthplace
Don't care
Died
September 23, 2012
Don't care
Resides
Don't care
Billed from
Don't care
Trained by
Don't care
Debut
Don't care
Retired
September 23, 2012
Total Non-Stop Entertainment
Patriota and Dos Santos was confirmed on the TNE roster. In episode 1 Patriota and Dos Santos were jumped in the opening match against the Coolest Kids in School and as a result, didn't win the tag team titles. In episode 2 the Luchadore Twins granted a rematch for the tag titles in a 2 out of 3 falls tornado tag team match at Doomsday after patriota defeated Ryan Baxter but lost at the CPV without winning a pinfall. In episode 4 they defeated Cody Meyers and Kid Punk. In episode 6 Dos Santos was pinned by Cody Meyers in a 6 man tag match. In episode 7 the team lost a #1 Contenders match for the TNE Tag Team Championship against Cody Meyers and Kid Punk because Tyson attacked Meyers. In episode 8 the Luchadore Twins attacked Tyson & RSJ turning heel and debuted street clothes and without masks.
Heel Turn
In episode 9 the Twins competed in the Full Roster Gauntlet match where they both got eliminated straight up Patriota got eliminated by Poison Bee while Dos Santos got eliminated by Gaz Tower. In episode 11 the Twins beat Gaz Tower & Lewis Parks and was given a TNE Tag Team Championship match at TNE Lockdown where they lost to Team One. On RAW Episode 15 the twins lost to Devon Aarons and Gaz Tower. the rematch happened episode 17 and the team lost again and this time is was for a title shot at TNE Wrestlemania.
Death
On September 23, 2012, Patriota and Dos Santos had incest gay sex with eachother and some how spawned a baby that killed them both on sight. That babies name was Hunico.
In Wrestling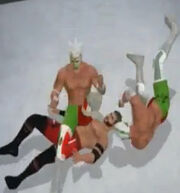 Finishing Moves:
Flip Leg Drop, Flip Seaton Combo!
Mule Kick (Dos Santos)
Moonsault Attack (Patriota)
Championships and accomplishments
None
Ad blocker interference detected!
Wikia is a free-to-use site that makes money from advertising. We have a modified experience for viewers using ad blockers

Wikia is not accessible if you've made further modifications. Remove the custom ad blocker rule(s) and the page will load as expected.