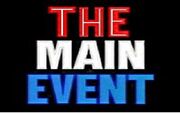 The Main Event
is the flagship of World CAW Wrestling (WCW) and airs every week except the week of the CPV (Click Per View). The commentators are C. Carter and Corkey Jordan. The show gets its name from WWE's show during the 1980s, "Saturday Night's Main Event," when NBC produced a Friday night spinoff show called "The Main Event." Even though it's the flagship of WCW,
The Main Event
has never ever hosted a title match for either the World Tag Team Titles or the WCW Championship. Recently, it was announced that WCW will split to two brands. The Main Event will still be the flagship of WCW and will have the WCW Championship, and the Cruiserweight Title. The Second show, which is yet to be named, will have the World Heavyweight Title and the United States Title.
Infamous Moments on The Main Event
The Main Event has been the scene of any infamous moments happening in World CAW Wrestling, but one moment in particular happened on Feb. 16, 2010, when WCW was a camcorder fed. During the "One on One with C. Carter" segment, then-WCW Champion Lemarcus Carter called out CAW Legend Danny Jackpot. At that moment, the SMF forums criticized both WCW and Lemarcus Carter, and caused WCW to go to hiatus. When WCW returned, the first show they did was The Main Event, where another infamous incident happened. Then-WCW Champion Lemarcus Carter attacked John Cena. With Cena on the table, Lemarcus climbed on the top turnbuckle and dropped the elbow on Cena, causing Cena to go through the table. Lemarcus then gave Cena "The Money Maker."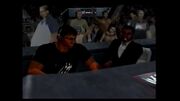 About the Commentators
C. Carter is the host of The Main Event. Always rooting for the good guys, C. Carter is infamous for his high pitched voice and screams. One phrase C. Carter says without fail at least once an episode is "Oh my God!!!" C. Carter is the one in the suit. Even though both C. Carter and Lemarcus Carter share the same last name, they are not related. One episode in particular was the episode before WCW Spring Stampede. C. Carter blamed Lemarcus Carter for almost causing WCW to shut down for talking about Danny Jackpot. The opposite of C. Carter is his partner, Corkey Jordan. Always free spirited and supporting the villains of WCW, Corkey Jordan always gives his point of views, even if it clashes with C. Carter's opinion. Corkey Jordan and C. Carter are the Gorilla Monson-Bobby "The Brain" Heenan of WCW because from time to time they clash. Some episodes, they would tell each other to shut up.
Ad blocker interference detected!
Wikia is a free-to-use site that makes money from advertising. We have a modified experience for viewers using ad blockers

Wikia is not accessible if you've made further modifications. Remove the custom ad blocker rule(s) and the page will load as expected.