Total Nonstop Xtreme Animation
Details
Acronym
TNXA
Establishment
2010-Current
Owner(s)
Torrin Fluker
Staff
Torrin Fluker (TNXA Owner/Commentator)
"The Prodigy" Raymond Dudley (GXV Commentator; Ep. 4-present)
Gurahk Weavile (GXV Commentrator; Ep. 5-present/TNXA Writer)
Mark Anderson (TNXA CPV/GXV Ring Announcer)
Mickie James (Former Interviewer)
John the Intern (Former Interviewer)
Lita (Interviewer)
Aksana (Interviewer)
Ryoko "The Blade" Sakamoto (GXV Referee; Vixens Only)
Formerly
{{{formerly}}}
Website
http://www.dailymotion.com/FlukeDogg08
TNXA Bio
August 31 of 2010, Torrin Fluker made his idea to announce his CAW promotion called TNXA, Total Nonstop Xtreme Animation. And TNXA will be aired until October 27, 2015 after Torrin released the TNXA Draft trailer.
TNXA Debut: TNXA Draft
In October 27 of 2010, TNXA makes it's debut live in Indianapolis, Indiana on Dailymotion, TNXA DRAFT 2010. The General Managers of TNXA iMPACT! and TNXA Thunder, Dexter (Dexter's Laboratory) and Ran Kotobuki (Super GALS!), announce they gonna choose the roster for their brand before or after the match. And the theme song is "All I Do Is Break Walls" Mashup by TREy MasHUps.
TNXA Impact Wrestling
On December 3, 2010, after the Draft, Torrin posted TNXA Impact Wrestling (Formally TNXA iMPACT! as of episode 10). The revenue, Hinkle Fieldhouse in Butler University of Indianapolis, IN. Game used for WWE 2K14 for the Xbox 360 console.
The Stage for TNXA Impact Wrestling is CAW Arena (WWE 2K14) that look like TNA Impact Zone. It's theme song is "I Want It All (SmackDown Theme)" by Jim Johnston.
Rosters
Superstars
Name
Alignment
Billing
Signatures
Finishers
Inactive Note
General Manager
"The Boy Genius"
Dexter McPherson
Face
Burbank, CA
N/A
N/A
Alberto El Patron
Also currently known as Alberto Del Rio
Face
San Luis Potosi, Mexico
N/A
Cross Armbreaker
"The King of Swing"
Antonio Cesaro
Face
Lucerne, Switzerland
European Gutwrench Suplex
Springboard Uppercut
The Neutralizer
Uppercut
"Cholo Street Thug"
Azrael Sanchez
Heel
San Diego, CA
187 Street
Chicano Moonsault
Chicano Backbreaker
Chicano Neckbreaker
Chicano Driver
"Ben 10"
Ben Tennyson
Face
Bellwood, IL
Four Arms' Fist
Grey Matter Arm Drag
Perfrect 10 Cutter
Alien Driver
Frankenstrike-Out
"The Beast Incarnate"
Brock Lesnar
Tweener
Minneapolis, MN
German Suplex
F-5
Kimura Lock
"The Best in the World"
CM Punk
Face
Chicago, IL
Macho Man Elbow Drop
GTS
Anaconda Vice
"The Chosen One"
Chase Young
Heel
China
Heylin Kick
Xiaolin Overdrive
Heylin Lock
Christian Cage
Face
Toronto, Ontario, Canada
N/A
Killswitch
Craig Marduk
Face
Sydney, Australia
N/A
Armageddon Hammer
The Last Ride
Dolph Ziggler
Face
Hollywood, FL
Super Kick
Fame Asser
ZigZag
Sleeper Hold
Ezekiel Miller
Face
Philadelphia, PA
Zeke Experience
Zeke Street
You Got Served
"The Captain of MAR"
Ginta Toramizu
Face
Japan
The Twister
Ball and Chain
M.A.R. Suplex
Chain Reaction
Babbo Cutter
"The Demon"
InuYasha
Face
Fedural Japan
The Demon Curse
Chokeslam
Iron Reaver Soul Stealer
Wind Scar
Full Fledged Demon Bomb
Jack Evans
Face
"P-Town"
Parkland, WA
Ode to Blitzkrieg
99 Crusher
Phoenix 630 Senton
Phoenix 630 Hurricanrana
"The Evil Boy Genius"
Jack Spicer
Heel
Parts Unknown
Spicer Stunner
Jackknife
Spice Club
James Kojiro
Heel
Parts Unknown
Flower Power Takedown
Wrap Attack
Rocket Cutter
Rocket Buster
Stun Spore From Victreebel
"The Charismatic Enigma"
Jeff Hardy
Face
Cameron, NC
Twist of Fate
Whisper in the Wind
Twist of Fate
Swanton Bomb
Johnny Test
Face
Porkbelly, Manitoba, Canada
Test Driver
Test Drive Triple-S
Test Elbow
"The Wolf Demon"
Koga
Heel
Fedural Japan
Gorashi
Full Moon Kick
Full Moon Slam
Wolf Lock
"Hell's Gatekeeper"
Lord Magma
Heel
The Depths of Hell
Satan Drop
Armageddon Rising
Last Ride to Armageddon
Chokeslam to Hell
Tombstone to Hell
"El Tigre"
Manny Rivera
Face
Miracle City, Mexico
Tigre Bomb
Tigre Suplex
Tres Tigre Amigos
Miracle City Supreme
"The Shadow Keeper"
Marik Ishtar
Heel
The Shadow Realm
The Shadow Claw
The Shadow Bomb
The Shadow Driver
The Shadow Mind Control
Matt Hardy
Face
Cameron, NC
Side Effect
Diving Elbow Drop
Twist of Fate
"The Scratch Cat Pokemon"
Meowth
Heel
Parts Unknown
Fury Swipes
Cat Claw
Payday
Night Slash
Perfect Charm
"The Hardcore Legend"
Mick Foley
Facde
Long Island, NY
Double Arm DDT
Mandible Claw
Raimundo Pedrosa
Face
Rio De Janeiro, Brazil
Karate Chop
Dragonsault
Rai-Dragon
450 Splash
Dragon Cutter
"The Viper"
Randy Orton
Face
St. Louis, MO
Hanging DDT
Backbreaker
RKO
Punt Kick
"The Leader of the Samurai Society"
Renji Abarai
Heel
Japan
Sword Kick
The Decapitation
Abarai Bomb
Samurai Cutter
"The Juggernaut"
Roman Reigns
Face
Pensacola, FL
Superman Punch
Spear
Powerbomb
The Joker
Tweener
Arkham Asylum in Gotham City
Fall of Humanity
Swinging Neckbreaker
Why So Serious?
Let's Put a Smile In Your Face
"Tha Scorpion"
Trey Suave
Face
Memphis, TN
Poison Stinger
Venom Cutter
Scorpion Death Lock
Scorpion Death Drop
Wade "Bad News" Barrett
Heel
Preston, England, UK
Winds of Change
Rope Hung Knee Strike
Bullhammer
Wasteland
Zak Saturday
Face
Secret Scientist
Saturday Suplex
Secret Submission
The Claw
Secret Elbow
Secret Bomb
Knockouts
Name
Alignment
Billing
Signatures
Finishers
Inactive Note
Co-General Manager
"The World's Greatest Gal"
Ran Kotobuki
Face
Shibuya, Japan
N/A
N/A
"Ctarl-Ctarl Emperor"
Aisha Clan-Clan
Face
Planet Ctarl-Ctarl
The Pounce
Spinebuster
Beast Lock
Ctarl-Ctarl Chokeslam
Emperor Driver
Amu Hinamori
Face
Japan
Amulet Love
Amulet Armbar
GTS
Shugo Chara-canrana
Egg Heart of Love
"Tyranny of Tamara"
Blackfire
Tweener
Planet Tamara
Residing: Jump City, CA
Black Walk Slam
The Queen's Stomp
Black Bomb
Royal Scepter
BloodRayne
Heel
Germany
Blood Kick
Decapitation Kick
Rayne Down
Dracula Kiss
Blood Drive
"The Homecoming Queen"
Bonnie Rockwaller
Tweener
Middleton
Residing: Indianapolis, IN
Mystical Monkey Flip
Tiara Suplex
Crowning Acheievement
Lemon Bon-Bon
"No Pictures Needed"
Caitlin
Heel
Beverly Hills, CA
Impeding Scandal
Bevery Hills Jam
Simply Beautiful
Dress Code Violation
Burn Book
"Simply Flawless"
Dominique
Heel
Beverly Hills, CA
Cold Shoulder
Rear View
Just Blackmail
Glamour Shot
Burn Book
"The Phenomenal"
Jade Chan
Face
Hong Kong, China
Liu Kang Kick
Karate Chop from Jackie Chan
Jade Clash
J-Kick
"The Pink Butterfly"
Jessica Pink
Face
Chicago, IL
Triple German Suplex
Sharpshooter
Pink Driver
Pretty in Pink
Pink Buster
Jessie Musashi
Heel
Parts Unknown
Seviper Leg Drop
Rocket Locket
Glamour Rocket
Crimson Glamorous
Yanmega's Wing Attack
Kari Kamiya
Face
Osaka, Japan
Gatomon Attack
Kari Kick
Digi-Slam
Osaka Stampede
"The Beverly Hills Bitch"
Mandy Luxe
Heel
Beverly Hills, CA
Bitch Slap
Beverly Hills DDT
Beverly Hills Bulldog
Beverly Hills Lock
Glamorous DDT
May Haruka
Face
Petalburg City, Hoenn
Beautifly DDT
Spear
Torchic Driver
Blaziken Blaze Kick
Beauty Contest
Mileena
Heel
Outworld
Sai Spear
Outworld Suplex
Be Mine
Rip Off
Chokeslam
"The Professional"
Pan
Face
Mt. Paozu
Residing: West City
Meteor Crash
Prepare to be Punished
Go Home Driver
Pan Time
Masenko
"The Spellbinder"
Raven
Face
Planet Azarath
Residing: Jump City, CA
Azarath Metrion Zinthos #1
Old School
Raven's Wings
Raven Effect
Azarath Metrion Zinthos #2
Skarlet
Heel
Outworld
Off With Your Head
Red Driver
Blood Bath
Make It Rain
"Tamara's Finest"
Starfire
Face
Planet Tamara
Residing: Jump City, CA
Whisper in the Wind
Starplex
Starbolt Splash
5 Star Alien Splash
Star Clash
"The Blind Bandit"
Toph Bei Fong
Face
Earth Kingdom
Rock Chop
Blind Kick
Earthbender
Earthquake
Driving Richter Scale
Stables
Superstars Stable
Name
Members
Alignment
Finishers
Animacion Cielo
"El Tigre" Manny Rivera
Ginta Toramizu
Face
N/A
Bad News Reapers
InuYasha
Wade "Bad News Barrett"
Face/Heel
N/A
Dark Magma
Lord Magma
Marik Ishtar
Heel
N/A
E-Unit
Ben Tennyson
Ezekiel
Face
N/A
Endurance Test
Dolph Ziggler
Johnny Test
Face
N/A
Team Rocket
James Kojiro
Meowth
Jessie Musashi
Heel
N/A
The Hardy's
Matt & Jeff Hardy
Face
Extreme Combination (Matt's Twist of Fate & Jeff's Swanton Bomb)
The New Dangerous Alliance
Brock Lesnar
Azrael Sanchez
Paul Heyman (Manager)
Heel
N/A
The Samurai Society
Renji Abarai
Chase Young
Jack Spicer
Koga
Heel
N/A
The Scorpion King
"Tha Scorpion" Trey Suave
Craig Marduk
Face
N/A
Zak 'n Jack
Zak Saturday
Jack Evans
Face
N/A
Knockouts Stable
Name
Members
Alignment
Finishers
Blood Lust
BloodRayne
Mileena
Skarlet
Heel
N/A
Crush Hour
Jade Chan
Toph Bei Fong
Face
N/A
JusaiaMon
Pan
Kari Kamiya
Face
N/A
Smooth Queens
Blackfire
Bonnie Rockwaller
Tweener
N/A
Teen Titan Girls
Raven
Starfire
Face
N/A
The Beauty & The Beast
May Haruka
Aisha Clan-Clan
Face
Assisting Samoan Drop
The Pink BFF's
Jessica Pink
Amu Hinamori
Face
N/A
The Plastics
Mandy Luxe
Caitlin
Dominique
Heel
N/A
Mixed Stable
| Name | Members | Alignment | Finishers |
| --- | --- | --- | --- |
| | | | |
Champions
Picture
Title Names
Current Champions
Times
Days Won
Event
(Location)
Former Champions
TNXA World Heavyweight Championship
Vacant
December 25, 2015
N/A
Austin Juhasz
TNXA Legends Championship
Ginta Toramizu
1
September 6, 2015
TNXA Joker's Wild
(Las Vegas, NV)
Cody Rhodes
(aka Stardust)
TNXA American Championship
Roman Reigns
1
March 28, 2015
TNXA Genesis
(Montreal, Quebec, Canada)
Bandit Keith
TNXA X-Division Championship
"El Tigre" Manny Rivera
1
June 17, 2014
TNXA iMPACT! Ep. 6
(Indianapolis, IN)
N/A
TNXA World Tag Team Championship
Zak 'n Jack
1
December 13, 2012
TNXA House Show
(Pensacola, FL)
Jeff Hardy & Raimundo Pedrosa
TNXA Knockouts Championship
Blackfire
1
August 2, 2015
TNXA House Show
(Glasgow, Scotland)
Jessica Pink
TNXA Knockouts Tag Team Championship
The Beauty & The Beast
2
April 18, 2015
TNXA iMPACT! Ep. 8
(Indianapolis, IN)
The New Dangerous Alliance
(Candace Flynn & Kari Kamiya)
TNXA Xplosion
TNXA Xplosion is a webmatch that features one match in one night every episode.
Episodes
to be edited
GXV (Generation of Xtreme Violence)
TNXA got an idea. They can make a development. TNXA will be developing the next generation of TNXA; GXV, Generation of Xtreme Violence. The game are used for WWE '13 or WWE 2K14 for the Xbox 360 console. And the revenue on Mackey Arena in Purdue University in Lafayette, IN.
The stage for GXV is Custom Arena (WWE '13 or WWE 2K14). It's theme song for GXV is "Holiday" by Bensin.
It premiered in the University of Dayton Arena after TNXA Japanarchy in 2013 before it currently moved to Mackey Arena in Purdue University.
Rosters
Superstars
Name
Alignment
Billing
Signatures
Finishers
Inactive Note
General Manager
El Noveno
Face
Tijuana, Mexico
Gold Cutter
Tres Amigos
9-2-5
Noveno-Sault
Hell Razor
Ace Walker
Face
Chicago, IL
Triple German Suplex
That Ace Clash
Ace Crusher
Bandit Keith
Face
Toronto, Ontario, Canada
Residing: America
10 Commandments
American Chokeslam
Atomic Bomb
US Constitution
Bully Cutter
Boomer
Heel
The City of Townsville
Townsville Hangover
Misty Blue
Boomin' System
Code Blue
Brick
Heel
The City of Townsville
Red Alert
Brick Layer
CodeBricker
Code Red
"The Legendary Super Saiyan"
Broly
Face
Planet Vegeta
YOU! YOU'RE NOTHING!
Legendary Clothesline
Garbage Disposal
Total Mutilation
Omega
Butch
Heel
The City of Townsville
Townsville Slam
Butcher Baker
Butcher Cutter
Code Green
David "A-List" Otunga
Heel
Harvard Law School
Belly-to-Belly
The Verdict
"Omega Clown"
Devin Spade
Tweener
Chicago, IL
Omega Lock
Chi-Town Shoutout
Omega Overdrive
Inverted Chicago Wind
Code of Omega
Geo Stelar
Face
Echo Ridge
Plasma Gun
Radar Missile
Cygnus Wing
Synchro Hook
Neo Geo
Gokudo Yuccot Kikansky
Heel
Eshallatto
Kikansky Driver
Eat This!
Flaming Magic Sword
Royal Leglock
"The Esper"
Itsuki Koizumi
Face
Japan
The Prediction
Koizumi Crusher
ESPer Driver
SOS Faceplant
Justin Gabriel
Also currently known as PJ Black
Face
Cape Town, South Africa
Spin Sit-Out Powerbomb
Swanton Bomb
450 Splash
Flip Sideway Flapjack
Michinoku Driver
Kam Chin
Face
Columbus, OH
Residing: Atlanta, GA
Ballin' Elbow
Beethoven Lock
Fur Elise
Piano Twist
Kam-tastrophe
"Alpha Clown"
Kevin Spade
Tweener
Chicago, IL
Alpha Lock
Chi-Town Shoutout
Alpha Overdrive
Chicago Wind
Code of Alpha
"The Japanese Rattlesnake"
Mugen
Face
Japan
Lou Thez Press
Mugen Strikes
Kendo
Japanese Cloverleaf
Nolo Pasaro
Face
Milan, Italy
Road Rash
Breaking Point
Spectyte
High Voltage
Synkro
Richie Hiroshi
Face
Frodomar City, Kanto
Zippo's Fire Spin
Happy's Stun Spore
Sparky's Thunderbolt
Cruise's Take Down
Richie-T
Shirako Takamoto
Face
Shibuya, Japan
Ignition
Finish Line
Bassline
Nightlife
Garage Jam
"The Young Gun"
Smokey
Face
Georgiana, AL
Fireman's Carry Cutter
Yallin' Elbow
Acid Drop
SKO
"The Saiyan Prince"
Tarble
Face
Planet Vegeta
N/A
Galick Burst
Saiyan Kick
Final Flash
"The One Man Nation"
Vaughn Kreed
Heel
Los Angeles, CA
High Impact Uppercut
Nation Lock
The Aneurysm
Spine Shatter
Nation Driver
Vicious
Heel
Parts Unknown
Old School
Chokeslam
Vicious Footprint
Eternal Rest
The Last Rites
"The Jamaican Kid"
Wayne Marley
Face
Kingston, Jamaica
Jamaican Neckbreaker
Jamaican Buzzsaw Kick
Jamaican Arrow
Jamaican Wheelbarrow
Vixens
Name
Alignment
Billing
Signatures
Finishers
Inactive Note
"The Killer Bee"
Cammy White
Tweener
United Kingdom
Killer Bee Kick
Cammy Kick
Gyro Drive Smasher
Spike Cannon
Candace Flynn
Heel
Danville, CA
Diving Headbutt
Spike DDT
CKO
Crippler Crossface
Catwoman
Face
Gotham City
The Cat Trap
Cat Scratch Fever
Bad Kitty Kick
Cat Nap
Cat Breaker
Deidre Dennis
Heel
Gotham City
Slingshot Dee Breaker #1
Diving Cross Body
Dee Cutter #1
Figure 4 Leglock
Laughing Pain
Delia Dennis
Heel
Gotham City
Slingshot Dee Breaker #2
Diving Cross Body
Dee Cutter #2
Figure 4 Leglock
Laughing Pain
"The Bludgeoning Angel"
Dokuro Mitsukai
Face
Japan
Angel Leg Sweep
Halo Lock
Club to Death
Kiss of Death
"The World's Strongest Woman"
Diane
Heel
Megadozer
Chokeslam
KO Punch
Meat Hook Clothesline
Original Sin
"The Dragon Trainer"
Emmy
Face
The Dragon's Villiage in the Unova Region
Residing: Portland, OR
Flamethrower
Farmboy Choke
Draco Meteor
Dragon Claw
Dragon Dance
"The Queen of Roses"
Emmy
Heel
Brooklyn, NY
E-Cutter #2
Punt Kick
E-Cutter
Glorious Envy
Harley Quinn
Face
Gotham City
Why So Serious?
Crazy Dance Leg Drop
Laughing Pain
Laugh Attack
Laughing Medicine
"The Ultra Director"
Haruhi Suzumiya
Face
Japan
Suzumi-Kick
Haruhi Clutch
Falcon Dropkick
SOS Faceplant
Iima Valentine
Tweener
Domino City, Japan
Chokeslam from the Asylum
Scorpion Death Drop
Scorpion Death Lock
GET AWAY FROM ME!!!
Kudome Valentine
Isabella Garcia-Shapiro
Face
Danville, CA
Issy DDT
Submission Patch
Sweet Kiss from Issy
Fireside Jamboree
What'cha Doin'?
Kim Chin
Face
Columbus, OH
Residing: Atlanta, GA
Kimmy Clash
The Turntable
Final Mix
"Supafly" Kimmy Snuka
Kim-tastrophe
"The Fierce Ninja"
Koyuki Azumaya
Face
Osaka, Japan
Koyuki Bomb
Ninja Kneelock
Ninja Armbar
Ninja Cutter
Ninja Crusher
"The Sexy Succubus"
Kurumu Kurono
Face
Japan
Sex Sault
Bronco Buster
Succu-Bomb
Lustful Ride
Kidnapped by Graverobber
"The Gothic Lust"
Lauren Griffin
Heel
Sin City
Tribadism Leg Lock
Sexual Punch
Lust Cutter
Gothic Kiss of Death
Climax Cutter
Marie Kanker
Face
Peach Creek, TX
Rebellious DDT
Kanker Driver
Kanker KO
Kanker Kross Armbreaker
Kanker Kutter
"The Snake"
Medusa Gorgon
Heel
Death City
Venom Driver
Snake Bite
Vector Blade
Five Star Snake Splash
"The Sweetest Sting"
Mila
Face
Madrid, Spain
Residing: Queens, NY
Cross Armbreaker
Left-Handed Knockout Hook
Sleeper Choke
Victoria Kick
"The Snow Fairy"
Mizore Shirayuki
Face
Japan
Ice Claw
Brain Freeze
Mizore Plex
Frost Bite
Below Temperature
Naga the Serpent
Heel
Holy Kingdom of Sailum
Lightning Whip
Serpent Bomb
Freeze Arrow
Serpent Lock
Last Laugh
Poison Ivy
Face
Gotham City
Poison Driver
Poisonplex
Poison Kiss of Death
Poison Lock
Poison Cutter
Samus Aran-Juhasz
Face
Planet Zebes
Residing: Richmond, VA
Light Whip
Ridley Rack
Screw Attack
Zero Lazer
Tootie
Face
Dimmsdale, CA
Fame Asser
Diving Elbow Drop
Very European Uppercut
Busaiku Knee
Pedigree
Vicky the Babysitter
Heel
Dimmsdale, CA
Spear
Curfew Lock
BED. TWERP!
GTS
Wendy T.B.
(Real Name: Wendy Testaburger)
Face
South Park, CO
Wendy By Nature
The Hart Lock
Frog Splash
Sharpshooter
"The Alien"
Yuki Nagato
Face
Japan
RIS (Remote Island Syndrome)
Data Overmind
The Final Chapter
Alien Crusher
Bookworm Buster
Stables
Superstars Stable
Name
Members
Alignment
Finishers
Ace of Destruction
Broly
Ace Walker
Face
N/A
Alpha Omega Twinz
"Alpha Clown" Kevin Spade
"Omega Clown" Devin Spade
Tweener
Alpha Omega Combination
Civil Rights
Bandit Keith
Kam Chin
Face
N/A
Mystic Rook
Itsuki Koizumi
Richie Hiroshi
Face
N/A
Snake 'n Wolf
Mugen
Justin Gabriel
Face
N/A
StarBlast
Tarble
Geo Stelar
Face
N/A
Teku Force
Nolo Pasaro
Shirako Takamoto
Face
N/A
The A-Team
Gokudo Yuccot Kikansky
David Otunga
Heel
N/A
The New Millennium
Smokey
Wayne Marley
Ace Walker
Face
N/A
The Rowdyruff Boys
Brick
Boomer
Butch
Heel
N/A
UWA Legends
Vaughn Kreed
Vicious
Heel
N/A
Vixens Stable
Name
Members
Alignment
Finishers
Atlantic Hornets
Mila
Cammy White
Face
N/A
Dee Dee
AKA The Dee Dee Twins
Deidre & Delia Dennis
Heel
Dee Dee Death Drop
Desecration
Samus Aran-Juhasz
Iima Valentine
Face
N/A
Gotham City Sirens
Harley Quinn
Poison Ivy
Catwoman
Face
N/A
hWo
aka Hardcore World Order
Envy
Lauren Griffin
Vicky the Babysitter
Heel
N/A
Kunoichi Vice
Koyuki Azumaya
Emmy
Face
N/A
MarieBella
Marie Kanker
Isabella Garcia-Shapiro
Face
N/A
Musical Tundra
Kim Chin
Mizore Shirayuki
Face
N/A
Serpentine Venom
Naga the Serpent
Medusa Gorgon
Heel
N/A
SOS Brigade
Haruhi Suzumiya
Yuki Nagato
Dokuro Mitsukai
Face
N/A
The Hart Attack
Kurumu Kurono
Wendy T.B.
Tootie
Face
N/A
The New Dangerous Alliance
Candace Flynn
Diane
Paul Heyman (Manager)
Heel
N/A
Mixed Stable
Name
Members
Alignment
Finishers
Kim & Kam Chin
Kam Chin
Kim Chin
Face
N/A
Champions
Picture
Title Names
Current Champions
Times
Days Won
Event
(Location)
Former Champions
GXV World Heavyweight Championship
Broly
1
October 21, 2014
GXV Ep. 4: Takeover Special
(Frat Row, Stilwater)
Wayne Marley
GXV International Championship
David Otunga
1
October 21, 2014
GXV Ep. 4: Takeover Special
(Frat Row, Stilwater)
Ken Shamrock
GXV Underground Championship
Kam Chin
1
June 26, 2015
GXV Ep. 5
(Lafayette, IN)
Mugen
GXV Tag Team Championship
Alpha Omega Twinz
1
April 13, 2013
GXV Ep. 1
(Dayton, OH)
N/A
GXV Vixens Championship
Kim Chin
1
December 23, 2015
GXV Ep. 6
(Lafayette, IN)
Mila
GXV Women's Tag Team Championship
MarieBella
1
April 13, 2013
GXV Ep. 1
(Dayton, OH)
N/A
TNXA Thunder (defunct brand)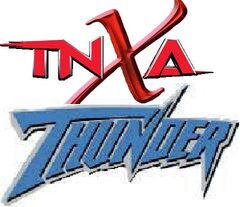 On later time, after the Draft, Torrin also posted TNXA Thunder! The revenue, Pepsi Coliseum in Indianapolis, IN. All games used for SmackDown vs. RAW 2010 and WWE 2K14 for the Xbox 360 console.
The stage for TNXA Thunder is WWE Unforgiven (SvR 2010) or Custom Arena (WWE 2K14) that look similar like WCW Thunder. It's theme song is "Feed" by Sevendust.
And on March 31, 2015 according to TNXA on Facebook, TNXA Thunder is hereby cancelled because TNXA is the TNA of CAW Wrestling League.
Rosters
Superstars and Knockouts
They're all in TNXA iMPACT! after Thunder is cancelled.
Defunct Champions
TNXA Championship - Azrael Sanchez
TNXA Intercontinental Championship - Matt Hardy
TNXA Universal Championship - Andre Black
TNXA Tag Team Championship - Team Rocket (James Kojiro & Meowth)
TNXA Hardcore Championship - "El Tigre" Manny Rivera
TNXA & GXV Alumni
TNXA CPVs & Specials (w/ GXV Takeover Special)
TNXA Click-Per-View
TNXA Specials
GXV Takeover Specials
Allies
TNXA & UCCW
In UCCW Super Smash Bros. Supershow! "Unforgettable", during UCCW Championship match between "Stone Cold" Steve Austin and Nemesis member, Kunzite, Super Robot #1 from out of nowhere is helping Kunzite attacks Stone Cold then Zoicite using her Crystal to distract the Referee. And suddenly from under the ring, TNXA's roster, Timmy Turner, surprised appearance (or debut in the future time) attacks Super Robot #1 for putting virus on both TNXA and Torrin's Windows Vista. But Timmy was cornered by Super Robots #1 and #2, Timmy wished "The Viper" Randy Orton was here to save him. The Wishmaster (Timmy Turner) and The Viper (Randy Orton) hit The Super Robots a Double RKO. That's why TNXA saved UCCW, but it turned out ugly by Nemesis after Stone Cold retains UCCW Champion.
Then on UCCW & TNXA Super Smash Bros. Supershow! Thunder, Team TNXA's Timmy Turner and Randy Orton were lost to The Nemesis' Super Robots #1 and #2. After the match, Team NCA's Graverobber and William Wallace got involved to attack The Super Robots, until Bowser and Predator got involved to attack Timmy and Orton. Until "Stone Cold" Steve Austin came to the end of The Nemesis. Afterwards, Stone Cold, Randy Orton, Timmy Turner, Graverobber, and William Wallace are celebrating so they'll ready to war at UCCW Elimination Series.
TNXA & WWE-TV
to be edited
TNXA Links
Ad blocker interference detected!
Wikia is a free-to-use site that makes money from advertising. We have a modified experience for viewers using ad blockers

Wikia is not accessible if you've made further modifications. Remove the custom ad blocker rule(s) and the page will load as expected.