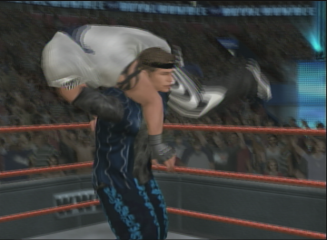 Trace Hawkins is a CAW wrestler currnetly signed with UCW. Hawkins began his UCW carreer on November 15, 2010 when UCW first started broadcasting on YouTube. Hawkins currently resides in Green Bay, Wisconsin.
The Next Generation
Hawkins made his original appearance to UCW as a heel, claiming he was the next generation of Wrestling. After the first 3 weeks of his premiere he was in the run for the UCW Heavyweight Title. At UCW Extreme Rules, Hawkins came up short in a No Disqualification match against Jason Righte.
After his bitter loss to Righte, the two would eventually form one of largest and ongoing feuds in UCW History. This rivalry would lead up to a rematch for the title sat UCW TLC, where Hawkins came out on top.
The Rapton Legacy and Face Turn
After losing the UCW Heavyweight Title Hawkins left the singles competition for quite some time and teamed up one night with Dustin Delta, defeating the team of Axel and Jason Righte. The two would remain a team and received their first shot at the UCW Tag Team Championships. The two came out on top. The night after they announced the name of their tag team which was the Rapton Legacy. The two would hold the most titles out of any tag team in UCW history. After the two parted ways, Hawkins began to feud with Jason Righte once again, it eventually led to a rematch for the UCW Heavyweight Title, Hawkins would come out on top. When Jason Righte invoked the rematch clause, Hawkins lost the title, when Axel interfeared with the match and cost Hawkins the win. After the match, Hawkins was attacked by Axel and Righte, and was put on I.R. for 2 months.
On March 3, 2011, Hawkins and Delta each made their return to UCW by aiding Dash Stricker and Alan Hayes after a match with Jason Righte and Axel for the UCW Tag Team Titles. Hawkins and Delta later challenged Righte and Axel for the titles and came up successful.
In Wrestling
Singature Moves:
Crossface Chicken Wing
Sidewalk Slam
German Suplex
Diving Headbutt
Diving Elbow Drop
Finishing Moves:
Crossface
Hawk Eye DDT (Kick-Out DDT)
Soaring Hawk Facecrusher (Lifting Facecrusher)
Tracing the Lines (Reverse STO)
Theme Songs:
"Shooter" by Jim Johnston
"Just Close your Eyes" by Waterproof Blonde
"Whatever (Instrumental Edit)" by Our Lady Peace
"It's Time" by Jim Johnston (with The Rapton Legacy)
"Hell Will Waste My Time" mashup by Offbeat Strike (with The Rapton Legacy)
Championships and Accomplishments
UCW Heavyweight Champion - 3 times
UCW Tag Team Champion - 8 times: (7) with Dustin Delta (1) with Dash Stricker
UCW Champion - 1 time
UCW Classic Champion - 4 times
UCW World Tag Team Champion - 2 times with Dustin Delta
Ad blocker interference detected!
Wikia is a free-to-use site that makes money from advertising. We have a modified experience for viewers using ad blockers

Wikia is not accessible if you've made further modifications. Remove the custom ad blocker rule(s) and the page will load as expected.