Ty Reign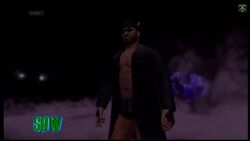 Reign early in his SAW run
Birth name
Tyler Damian Wolfe
Resides
Brooklyn, New York
Professional wrestling career
Debut
March 23, 2014
Retired
N/A
Tyler Damian Wolfe is an African American iWrestler, better known by his ring name Ty Reign. He is best known for his work in the Spartan Allianc3 Network, most notably SAW (Spartan Alliance) and iWU (iWrestling Uncensored).
Originally labeled as "just a technical wrestler", Reign became more well rounded as a competitor during his stint in Japan, adopting strikes and various submissions to compliment his technical style.
Along with being know for his mixed style, Reign is all so known for his history of head related injuries, as he has received both concussions and facial damage as a result of some of his matches. These injuries have been integrated into storylines, as Reign has used his concussions to explain his changes from heel to face (and vice-versa) and change in mindsets.
Training
Time in Mexico
Ty Reign was an accomplished amateur wrestler in high school and college. He decided at the age of 20 he wanted to pursue professional wrestling, being a fan since he was 3 years old. During a vacation with his family in Mexico, he came across a wrestling school in Tijuana. Instead of returing homing following his vacation, he decided to stay in Mexico to take part in the school. He remained there for 5 months learning in ring basics and how to apply his collegiate mat work to the ring. During a practice match with one of the other students, Reign was approached by British Legend, Toddrick Engles, who was visiting the school as he was friend with the owner. He was impressed with Reign's ability in the ring and his ability to adapt and react to his opponents actions. Engles offered Reign an opportunity to come back with him to Japan so he could continue his training with him at the Rising Sun Dojo. Reign accepted the offer an left for Japan with him 2 days later.
Time in Japan
Reign spent 7 months training in the Rising Sun Dojo under the tutelage of Toddrick Engles. While training under Engles he also trained alongside Engles' son, Todd Jr. During this time Reign began searching for inspiration for how he could develop himself as a competitor. He began pattering aspects of his style after Dynamite Kid and Chris Jericho due to his love for their respective styles of wrestling. After he completed his training, Reign was given the opportunity to compete in the Junior Heavyweight division of the Rising Sun Dojo's sponsored promotion, Rising Sun Wrestling. Reign would go on to hold the Rising Sun Junior Heavyweight Championship for four months before dropping the title to Yunama Ishiharu. Reign would later recapture the championship in November of that year before dropping it again in in late December. Reign's success in the Junior Heavyweight division caught the eye of many officials within RSW. To capitalize on the hype, RSW officials began labeling Reign as "Dynamite Jr". Reign would later modify the name, calling himself "The Tynamite Kid".
In January of the next year, Reign began to gain more notoriety for his cockiness and brash attitude. Reign would later go to capitalize on this, as he began to use mannerisms and maneuvers of Chris Jericho in his matches, going as far as adopting Jericho's Walls of Jericho maneuver (dubbing it the Brooklyn Crab). Reign would go on to call himself "Ty2J" and moved into the Intercontinental division in RSW. In March of that year Reign won the RSW Intercontinental Championship and would go on to hold the championship for four months. He then entered a feud with British competitor Curtis Anderson. Anderson was touring Japan demanding competition. Reign answered the challenge, stating that Anderson couldn't tie his boots. At RSW Future Shock, Anderson and Reign went one on one after nearly a month of boiling tensions. During the course of the match, Reign was beaten mercilessly by the veteran Anderson, to the point were Reign was incapacitated and carried out on a stretcher. Reign received multiple concussions from the match and was out of action for the rest of that year.
During the final months of his rehabbing period, Reign began have a different outlook on his career. After re-watching the tape of his match with Anderson, he noticed how the crowd reacted to the beating he received during the match (as the cameras showed crowd members looking away and or watching in disbelief at various points in the match). Feeling as though he had lost his dignity and honor in the match, Reign decided to comeback with the purpose of redeeming himself. In the month before his return, Reign contacted officials stating that he would leave the company by the end of that year. As a repayment for him leaving, he promised to perform at his best.
Reign returned to RSW in January of the new year as a babyface, receiving a huge ovation from the RSW crowd. He stated that while he was glad to be back, that it wouldn't be for long, announcing to the crowd that he would leave the company by the end of the year. He stated that he would make every match count and not leave the fans disappointed. Before he exited the ring, he addressed Curtis Anderson, stating that he hadn't forgotten about their previous bout and challenged him to a match at RSW End Game, the final date left on his contract. He stated that by that time he would be ready to avenge his loss and prove himself to the world.
Upon his return to the ring, Reign began using a much different in ring style than he had prior, implementing more strikes, submissions, and dives to his arsenal. He stated that he drew inspiration for changing his style from watching matches from Keiji Mutoh and Eddie Guerrero. During a return match from their RSW Junior Heavyweight Championship match from 2 years earlier, Reign debuted his new finisher, the EnzTygiri, against Yunama Ishiharu and won the match. Reign would go on to capture the RSW Junior Heavyweight and Intercontinental Championships (each once) later in the year.
Following his loss of the RSW Intercontinental Championship in November of that year, Reign opted not to reinstate his rematch clause. He decided to set his sights soley on his rematch with Anderson. He called out Anderson on RSW TV, stating that Anderson had not given him an answer to his challenge. Anderson came out, and stated that he had no need to except the challenge after decimating Reign the first time. Reign responded by saying he was blinded by his own self conceit and stated that Anderson never beat him, but more so beat the attitude out of him. He then stated that this time he would give him the fight Anderson desired a year prior. Anderson accepted the match, saying that he had nothing to do that day and that he wouldn't mind "receiving another paycheck for another five minute massacre". RSW officials made the match official later that night. At End Game, Reign defeated Anderson in a 25 minute bout after using three EnzTygiri kicks. He was met with a huge ovation from the crowd and a going away celebration in the ring by the RSW officials and wrestlers. Anderson then returned to the ring and shook Reign's hand before the show ended. Following the event, Reign left to return to the states to compete on the American independent circuit.
Early Promotions
Xtreme Wrestling Federation (2014)
Ty Reign made his XWF (then known as the Xtreme Wrestling League) debut in early 2014 upon his return to the states from his stint in Japan. During his time there he became both XWF Hardcore Champion and XWF World Tag Team Champion with (long time tag partner and later rival) Alexander Wayne, each on one occasion. He later began a brief feud with then tag team partner Alexander Wayne over his Hardcore Championship in a 3 match series. Each picked up a victory in the series but a 3rd match never came to fruition due to both men leaving the promotion due to creative differences.
Current Promotions
Spartan Alliance Wrestling (2014-Present)
Reign made his SAW debut during the first ever SAW Week (an event used to continue current SAW storylines and debut new talent) on the Oct 4 edition of the program. He defeated Anthony Moore in his first match after using a brainbuster variation through an announce table to incapacitate him. He would go on to compete against Ray Huffman in the second episode of SAW Week, but this time in a losing effort. He would later defeat Valentino De Campo on the fourth episode.
In a match billed as putting the two most impressive prospects from SAW week against one another, Reign faced former partner Alexander Wayne on the 21st edition of SAW Last Breath. During the match, Reign used a chair to break the ankle of Alexander Wayne. When questioned as to why he attacked Wayne, Reign cut a promo explaining his actions. According to Reign, Anthony Moore was present for Wayne and Reign's final bout in the defunct XWF. Despite Reign winning the match, Moore decided to offer Wayne a contract to SAW due to having a better look for the company. Wayne later explained to Reign backstage that despite getting the contract, he wouldn't sign unless Reign was signed with him. As both left the locker room area, Wayne attacked Reign and superkicked him down a flight of stairs causing Reign to be hospitalized for several months. 2 months later Reign was visited by Ryan Future, who explained that he paid for Reign's hospital bills due to him seeing much potential in him. He told Reign that if he rehabbed quick enough and could get himself together, he would sign him to an SAW contract, explaining his entry into the company. Reign also explained that he didn't always act so viciously and mercilessly, attributing these new characteristics as side effects of Wayne's actions. Despite Wayne never denying Reign's claims, he was still treated as the face in the feud due to Reign's vicious demeanor and actions towards him and that Reign had no clear evidence to support his claims.
At SAW Shut Your Mouth, Reign faced Alexander Wayne in a Falls Count Anywhere match. In the final moments of the match, Reign was nailed with Alexander Wayne's signature Wayne Train Knee Lift. The moved not only managed to give Wayne the win but caused facial damage to Reign, causing to take time off to recover.
Reign returned to SAW on the June 25 edition of Last Breath after nearly 4 months out of action to assist Leon Thompson in a triple threat match between him, 83, and Alexander Wayne. Following the match Reign, Leon Thompson, and Ray Huffman formed The Brotherhood. The was stable formed out of frustration with SAW creative,with each of the members feeling it was time to make their own opportunities as opposed to waiting for them. The next week Reign and Thompson earned a victory for the Brotherhood by defeating the team of Gary Simpson and Alexander Wayne after Wayne abandoned half way through the match after deeming Simpson not credible enough to be his partner.
iWrestling Uncensored (2015- Present)
As part of iWU's partnership with the SA3Network, Ty Reign made his iWU debut on the show's 2nd episode. Per request of iWU owner Bill Boyd, Reign was asked to adopted a more "colorful" gimmick and change his style to fit the "iWU mold", which empasized being more of a character than a wrestler. Reign complied and debuted with a new attire and look. During his debut match on the 2nd episode of iWU with SAW competitor 83, Reign was struck with a steel chair by Ray Huffman, who was at ringside doing commentary. The next week during the Huffman's match with Kevin Bane, Reign's entrance music played during the match, distracting him and allowed for Kevin Bane to pick up the victory. Reign and Huffman faced off on the fourth edition of iWU (with Reign debuting a new look), but the match resulted in a double count due to the two brawling outside of the ring after weeks of built up frustration. The two would then compete in a non-sanctioned street fight at the Spicy Nights CPV, which Reign won.
Special Appearences
Ty Reign competed in the Combat event on the Home of Xtreme Network were he lost to Juro Lunarspark. Reign also competed on the 9th episode of Lion's Den, defeating Kruno Vasko in a replacement main event for the previously booked Scott Barnett versus Leon Purr.
In iWrestling
Finishing Moves

As Ty Reign

Reign Buster (Fisherman Buster, sometimes from the top rope)
Chapter Black (Jumping Fisherman Buster, sometimes with a leg hooked pin) (2015- Present)
Cross Lock (Inverted Sharpshooter) (2015-Present)
The EnzTygiri / Headshot (Step-Up Enzugiri) (2014-Present)
Reign Cycle (Spinning Fisherman's Neckbreaker, used rarely) (2015-Present)
Triangle Choke - used rarely (2015-Present)
Reign of Terror (Vertical Suplex Stunner) (2014) - used rarely thereafter
Life Switch (Inverted Killswitch) - used in his final year in Japan
Shining Star Splash - (Frog Splash) in his final year in Japan and as a tribute to Eddie Guerrero

As Ty2J

Reign Buster (Fisherman Buster, sometimes from the top rope)
Brooklyn Crab (Boston Crab, sometimes with knee driven into opponent's back)
Ty-Ger Bomb (Double Underhook Powerbomb) - set up for Brooklyn Crab
Signature Moves

Anklebreaker (Ankle Breakfast in SAW) - (Running Front Chop Block)
Arm Wringer Flip into Leg Drop, sometimes followed by a Short Arm Scissor
Blackout (Complete Shot)
Blackout Syndrome (Complete Shot into Koji Clutch)
Buckle Buster (Brainbuster onto to turnbuckle) - used rarely
Crowbar (Boston Crab with Knee to back)
Diving Headbutt
Diving Plancha
Dragon Screw Leg Whip, sometimes used to setup Cross Lock
Dragon Screw Neck Whip (Rope Hung Twisting Neckbreaker)- used in Japan, rarely thereafter
Drop Combo (Scoop Slam into Jumping Elbow Drop into Jumping Leg Drop into Jumping Knee Drop)
Dropkick, sometimes from top rope or to an opponent's knees
Elbow Drop, sometimes to opponent's back or legs
Elbow Smash
European Uppercut - early years
Figure Four Leglock, sometimes around the ringpost
Flinging a grounded opponent's arm into the mat
Knee Lift, sometimes to oponent's midsection
Knife Edge Chop, used from multiple positions
Like a Bullet (Suicide Dive or Elbow Suicida)
Moonsault - used throughout tenure in Japan
Multiple Suplex Variations

Backdrop, sometimes while spinning and delaying
German
Hat Trick (two backdrop finished off by a release German)
Overhead Belly to Belly, sometimes from top rope - (used in Japan)
Paladin-Plex (Trapping Suplex) - adopted from Toddrick Engles
Vertical, sometimes onto concrete or while delaying

Neckbreaker
New School (Rope Walk Single Arm DDT)
Rana-Tame (Leaping Frankensteiner into Juji-Gatame)- used in final year of Japan tenure
Reign Rush (Two Slaps followed by a knife edge chop into a backfist followed by an elbow)
Reverse Elbow, sometimes from second rope
Repeated Back Elbows, sometimes in the corner
Snapmare
Drift Shot (Snapmare into Sliding Elbow Smash)
Spinning Spinebuster
STF
Thrust Kick- used in final year of Japan tenure
Waki-Gatame
Nicknames

"The Tynamite Kid"
"The Black Paladin"
"The God of War"
"Mr. Adaption"
"Shining" (third year in Japan)
"Ty2J" (second year in Japan)
"Hollywood" (iWU)
Entrances

Kiss My Eyes (Justice Mix) by AFI
And the Snakes Start to Sing by Bring Me the Horizon (SAW)
Hollywood Remix (featuring Nickleback) (iWU)
Championship and accomplishments
Rising Sun Wrestling

RSW Junior Heavyweight Champion (3 times)
RSW Intercontinental Champion (2 times)
Xtreme Wrestling Federation

XWF Hardcore Championship (2 times)
XWF Tag Team Championship (1 time)
Ad blocker interference detected!
Wikia is a free-to-use site that makes money from advertising. We have a modified experience for viewers using ad blockers

Wikia is not accessible if you've made further modifications. Remove the custom ad blocker rule(s) and the page will load as expected.