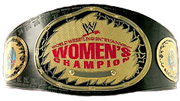 Information
The US-FWA Women's Title was crowned in US-FWA with Adrianna Valencia as the first and last champion. ACW got permission to bring back the US-FWA Women's Title. Rowdy Reiko won a tournament to become the US-FWA Women's Champion.
Title History: US-FWA
Title History: ACW
1. Rowdy Reiko (August 16, 2011 - January 15, 2012, 2 Title Defenses)
2. Penny Dreadful (January 15, 2012 - June 20, 2013, 4 Title Defenses)
3. Angel (6/20/2013 - Current, 208 Days as of 1/14/2014, 1 Title Defense)
Ad blocker interference detected!
Wikia is a free-to-use site that makes money from advertising. We have a modified experience for viewers using ad blockers

Wikia is not accessible if you've made further modifications. Remove the custom ad blocker rule(s) and the page will load as expected.