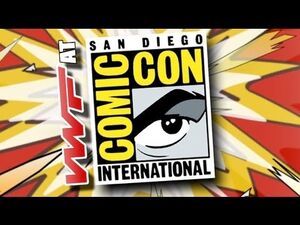 VWF special event that's held in San Diego, CA, during ComicCon.
2012
Before we kick off Season 2 of VWF, we're going to have a party in San Diego! It's Fred's 30th Birthday, and the best way to celebrate it...than to have VWF go to the biggest convention of the year: San Diego Comic Con! LuFisto takes on X-23; the VixenMania rematch for VWF Tag Team Championship, as the champs Usagi & Makoto defend against Haruka & Michiru. And, the main event will be saved as a gift to Fred! Speaking of gifts, what other gifts did Fred get?
As a bonus, we'll show you a ComicCon moment that we'll never forget!
| # | Results | Stipulations |
| --- | --- | --- |
| 1 | LuFisto def. X-23 | Singles Match |
| 2 | Usagi Tsukino & Makoto Kino (c) def. Haruka Tenoh & Michiru Kaioh | Tag Team Match for the VWF Tag Team Championship |
| 3 | Ami Mizuno def. Awesome Kong | Non-title Singles Match |
Notes
The VWF roster and the fans wished VWF Owner Fredrick J. Fracis a happy birthday.
Ami Mizuno ask Fred who will be her opponent for the night and told him that she want Awesome Kong as her opponent and Fred accepted her wish.
Freddy Krueger and Fred were talking before Jason Voorhees shows up from behind and scares Fred out of the room.
2013
VWF returns to San Diego, for another Comic Con special! What would this year's event bring?
~:Matches scheduled:~
-Queen of the Mountain LuFisto defends against Ashlee Simpson
-Tag Team Championship rematch from VixenMania 2: Jill & Lara (c) v Dewynter Sisters
-Samus Aran, Chun-Li, & Ling Xiaoyu will be debuting at this event!
-And, VWF Champion, Ami Mizuno, will be there to call out someone for a title match!
| # | Results | Stipulations |
| --- | --- | --- |
| 1 | Ashlee Simpson defeated LuFisto | Singles Match for the Queen of the Mountain Briefcase |
| 2 | The Dewynter Sisters (Kiki Dewynter & Viola Dewynter) defeated Jill Valentine & Lara Croft (c) | Tag Team Match for the VWF Tag Team Championship |
| 3 | Chun-Li defeated Ling Xiaoyu | Singles Match |
| 4 | Samus Aran defeated Melina | Singles Match |
| 5 | Ashlee Simpson defeated Ami Mizuno (c) | Singles Match for the VWF Championship |
5 - Ashlee denied to use her Queen of the Mountain contract, at first. She changes her mind after a masked person attacked Ami, while Ashlee was leaving. The masked person, was also the referee that did the quick count, was revaled to be LuFisto.
Miscellaneous Facts
Aerith has a run-in with the mysterious "M.K."
Ad blocker interference detected!
Wikia is a free-to-use site that makes money from advertising. We have a modified experience for viewers using ad blockers

Wikia is not accessible if you've made further modifications. Remove the custom ad blocker rule(s) and the page will load as expected.