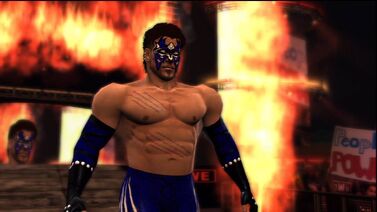 Ian Blair is a caw professional wrestler better known by his ring name Vegas. He is the original caw of the HWE league and currentlly wrestles for HWE (Homies Wrestling Entertainment). He was a former member of CTC, BSA, DSA, and DKW.
Vegas is a multi time world champion over a storied career and is part of one of the most powerful tag teams in wrestling, 30/30-150 with partner Steve Larkins Jr. He is the creator of HWE's personal caw. He originally was called Ian "Big Time" Blair until Kratos injured him and almost ended his career. When he stated taking steroids and anthrax he became the man he is today.
Vegas is a multi time world champion. He also is a HWE tag champion and has won various other HWE titles. He also has won many titles in various other leagues.
Current Leagues
DKW
2010 Season
On the main match of the Devilmania 2010, John X had a mystery opponent. It turned out to be Vegas. The battle was intense. Vegas would came over John X and win the World title.
2011 Season
Vegas began his run in DKW on Smackdown as WH champion. He won a qualifying match on his first smackdown against Zid to take part in a 6 man tag team match at DKW Last Stand. It was Smackdown vs Raw. After Joker tried to convince him to get out of the tag match to defend his world title against John X, Vegas said no and continued with the match. He was the second man out for team Smackdown and took out Nick on team raw, but was eliminated by raws second man MG. Following this he crossed Joker who signed Wesker. Wesker fought Vegas soon after and took his championship from him. It wasnt long after tho that Vegas got his belt back. Vegas was beat down by the Army of Darkness one week and was confronted by them again, before being saved by TMO. TMO then followed this by giving the champ a GTS. Vegas would then lose the world title to TMO in the first battle of the the Gauntlet vs Champion ppv. On the following episode of United, Vegas confronted TMO and had some choice words for him. Not long after he began his threat, T-bone interrupted and informed them both that all three would meet in a triple threat match at Devilmania for the #1 contendership for the DKW world title. At the ppv, Vegas fought against his two fellow HWE wrestlers and lasted till it was just him and T-bone. After a hard fight, Vegas ended up losing to T-bone after a back and forth of finishers.
2013 Season
Vegas' first match of the new season was against his longtime rival Big T. After a very close match, Big T came out the winner. After the match, TMO came down to beat up Vegas but Big T makes the save and beats TMO down enough to make him retreat. The following week, Vegas and Big T fought Andy and TMO in a tag team match after being called out. The match ended in a DQ as Andy and TMO laid out Vegas and Big T with chair shots. On episode 12 of United, Vegas got revenge by beating TMO in a match. At the Last Stand ppv, Vegas took out one of the Alphas before being cheated in his second pinfall in the gauntlet match, then was pinned. The next night, Vegas was attacked by TMO and Andy on the top of the ramp with a chair. On the next United, Vegas came down to the ring during the two's entrance and beat them down in a stone cold fasion, stomping TMO out and giving them middle fingers. At the No Limit ppv, the two finally fought one on one, and Vegas lost a grueling hardcore match against TMO.
HWE
2007 season
Vegas technically first debuted at Homiemania 2007. He came to be after the God of War Kratos took out Vegas' former self Ian Blair and almost ended his career. After taking a lot of steroids and xantrax, Vegas was born and returned at Homiemania to wage war against then WH champ Kratos for the WH belt in Hell in a cell. After a grueling war between the two Vegas finally pinned the god of war and reclaimed his World heavyweight title.
2008 season
Vegas began his 08 season as World heavyweight champion on smackdown. Vegas' first match was at Homielash 08 against the former champ Kratos in a extreme rules match. Vegas got the better of Kratos agian and pinned him after a frog splash to retain his title. On the first smackdown of the new year Vegas easily defeated "Big Gay" Nizzo. On the next ECW, Vegas fought Anal Angel in steel cage match with the stipulation that the loser must retire. Vegas easily defeated Anal Angel and sent her into retirement. Up next in the 08 season was a King of the Ring tournament to crown the new king of the ring. Vegas' first round opponent was "The Game" HHH. Vegas took advantage of HHH's entrance and as soon as he stepped in the ring he speared him and got the 3 count, advancing to round 2. In round 2 he fought The Ultimate Ty. After a back and forth match Vegas got the pin. At Homies Judgement the final rounds of the torny would take place. In the semifinals Vegas would be fighting "The People's Champ" The Rock. After 2 stunners he finally got the pin on Rock, advancing the finals. Vegas would fight The Undertaker in the tournament finals for the King of the Ring title. After a hard fought battle, Vegas beat the Undertaker and was crowned 2008 king of the ring. Vegas was riding a wave of success after coming back. But his success would soon come to a end. On the next Smackdown!, after the fallout of the tournament, a triple threat WH title match was made, Vegas vs Undertaker vs Dani. Dani would manage to get the pin and snag away the WH title away from Vegas. On the next smackdown during Dani's match with Ty, Vegas ran down and gave her a F5 and set Ty up for a frog splash. With this Ty got the three count and became world champ. After the match, Stephine Mchmahon informed Vegas he was traded to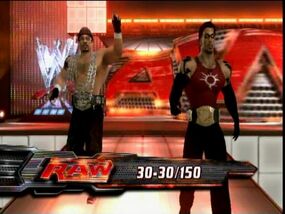 Raw. Since being drafted to raw, Vegas reunited with partner Steve Larkins Jr. and fought ICP for the World tag titles at the Great American Bash. 30/30-150 easily beat ICP for the tag titles and proved they where the most dominating tag team in HWE history. Later that night during Nitz's IC title match vs Mr. Mcmahon, Vegas ran down to stunner Mr. Mcmahon and give nitz the win. This would begin Vegas' feud with Mr. McMahon. It was then that The Joker made his first appearance. He attacked Vegas at the Summerslam ppv. Also on Raw Mr. Mcmahon had HHH help him beat down Vegas. Vegas then got involved with a storyline between Edge, Candice, and Torrie. Vegas ended the story with a stunner to both Edge and Torrie. Vegas then was in a fatel 4 way steel cage match at Cyber Sunday for the HWE title. Vegas would win the match and the HWE title when he escaped the cage. On the next raw, coming to the aid of Candice, Vegas was attacked by Rated RKO. Later that night during the Hardcore frenzy, Vegas came down to repel the ECW invaders. He came down and stunnered Bobby lashley, as well as chokeslamming Randy orton through a announce table. During the brawl 30/30-150 broke up and began to fight. Vegas was badly hurt after the brawl and was carried out on a stretcher. The next night on ECW Vegas was run over by Tommy dreamer and Bobby Lashley in the parking lot. This was followed by a dominator onto the hood. At ECW December to Dismember ppv, Vegas taunted Vince and ECW so they stuck him in a match to get rid of him. Vegas first defeated Sandman and Todd. After beating them Tommy Dreamer told him he had another match. Vegas then fought the Waskul Brothers and beat them also. Exhausted and worn out, Vegas was leaving the ring until Tommy told him he had one more match. Vegas said bring it and would have to fight the Brothers of Destruction. Vegas overcame the odds and also beat the BOD and proved he could beat anyone ECW threw at him. On the next raw Vegas ruined Mr. MM's hall of fame induction. Up next for Vegas was the Homies Rumble. He entered #12 and eliminated Jeff Hardy, Matt Dean, Jim Waskul, Nizzo, Steve Larkins Jr., The Nurse, Mr. McMahon, Umaga, The Undertaker, and HHH before finally being eliminated by Juggalo Joe. He survived until the final 2. After Stephanie Mac proposed to Vegas he didnt show up for the wedding on raw. This angered Mr. Mc so he got HHH and King Booker to take care of Vegas. It would be Vegas vs Booker vs HHH at Homies Way Out in triple threat TLC match for the HWE title. Vegas successfully retains his title at the ppv. After the match, Vegas interferes in Jr's match with Flash Gordon, costing Jr the match. After, Jr puts Vegas through a table. On the next Raw, Jr makes a open challenge to Vegas for a Hell in a cell match at Homiemania for the title. Vegas accepts later that night. At Homiemania Vegas and Jr. fought in a hellacious Hell in a cell match. They fought till the both where incapacitated out side the ring. That is when the Joker showed up and cause chaos. After fighting him and each other Vegas finally retained the title against Jr. After the match ended Flash Gorden appeared and beat Vegas for the HWE title.
2009 season
Vegas began the 09 season on the hunt for his title he was screwed over about. At Homielash 09 Vegas defeated Flash Gorden in a steel cage match to reclaim his HWE title. Vegas and the new superstar Crow fought The Joker and Flash Gorden on the next raw. In a close tag team match, Vegas' team won and Joker turned on Flash Gorden after the match. To settle their fued, at Homies Revengence, Vegas and Jr fought in a another classic Hell in a Cell match, which saw Vegas win after Jr tapped to the anaconda Vise. On the next raw Vegas retained the title against Joker in a no DQ match after interference from Gorden. The next week on Raw, Vegas defended his title in a 6 man battle royal against Chris Jericho, Juggalo Joe, Batista, Cedric, and Randy Orton. He made it down to just Cedric until Cedrics gf came in and low blowed vegas, allowing Cedric to pin vegas and gain the title. After the match Vegas stunnered Cedrics helper. At Homieslam, Vegas got a rematch for the title against Cedric. Vegas almost had the match but was scewed over by Nitz, who joined Cedric after the match. After this Vegas and Jr reunited, reforming 30/30-150 after some beer and pizza. They returned to battle Nitz and Cedric in Hell in a cell at Saturday Night's main event. Vegas then took part in a multi man tournament to crown the new WCW champion. His first round foe was Kroenen, whom he defeats. His second round foe was Juggalo Joe, with whom they put on a classic match and Vegas wins. His third round opponite was the Red Skull. He lost this match due to Kratos' interference. During the finals which where Jr vs Red skull, Vegas climbed into the cage to prevent Skull from winning and allowed Jr to win the belt. Due to Jr's suspension and stripping of the title, on the next ECW, Vegas fought Red Skull, Joker, and Kratos in a #1 contender match for the WCW title match at the Cyber Funday ppv. A extreme war was raged between these men. But as Vegas was stunnering Kratos on the outside, Joker pinned Red Skull and became #1 contender. Vegas then fought his long time rivel Kratos in Hell in a Cell at Cyber Funday, which he lost after Kratos jackhammered him through the roof of the cell and speared him. This losing streak was snapped though. At Homies Series, Vegas fought Ram, Cedric, Kratos, Ty, and Nitz in a Elimination Chamber match for the HWE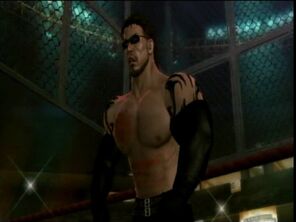 title. Vegas was a dominating force, eliminating every other superstar to reclaim his title. The most famous spot from the match was when he nailed a shooting star press off a pod onto Kratos on the steel floor for the final pin. With his title he was back on top. At Homies tribute to the troops Vegas fought against the former champ Cedric in a title match. The real surprise came during the match when Cedrics gf turned on him and joined vegas, giving him the match. At the next ppv, Vegas soundly defeated Nitz in a singles match. After the match the debuting Ajack attacked both Miss Vegas and Vegas himself. At Homies Rumble, Vegas entered #3 this year and eliminated TMO and Kroenen, but was thrown out by The Joker and the Ram. Vegas new task was to take care of Ajack. On the next raw he fought Ajack in a match. Vegas lost the match via count out when he took too long slamming ajacks head into the steel steps. After the match he gave Ajack a stunner for good measure. Then to help Jr deal with Joker, on the next raw 30/30-150 fought Joker and Capetian Spaulding. 30/30-150 scored the win after Jr nailed a distracted Joker with a chokeslam. The next ppv was Homies Way out, where Vegas would make his Homiemania plans clear. After Dani 2 dope won her match earlier that night, Vegas attacked her and held up her WH title, making a challenge for Homiemania. Later that night Vegas decimated Ajack in a steel cage match retain his HWE title. After the match he was attacked by Dani 2 dope and the match was set for Homiemania. On Homies night main event, Vegas and Miss Vegas defeated Harley Quinn and Dani 2 Dope in a tag team match. At Homiemania Vegas was quite busy. First thing for him that night was to escort Miss Vegas to the ring for her women's title match against Harley Quinn. Interfering a few times on MV's behalf, Vegas then fought with Dani, who had also come down to the ring. Later that night during the tag title unification match, TNT was getting demolished by Opus Magnum. TNT's manager Natasha ran backstage to get help. She returned and pointed to the stage. Out came Vegas and Jr, 30/30-150. The two helped TNT clean house and survive the match. When TNT almost went for the final pin and the win M broke it up and called the match a no contest. As M and his goons retreated, 30/30-150 celebrated with TNT. Finally the main event had arrived. Title for title, HWE champion Vegas vs WH champ Dani 2 Dope. As vegas made his way to the ring he flipped off J, who was sitting at ringside. Vegas and Dani battled for quite sometime till M showed up. M wanted both world titles on his show and wanted revenge on Vegas. He had Mystique interfere, shapeshift and cause confusion. In the all the choas Dani managed to pin Mysitque (who looked like vegas), there by winning both the world titles. As vegas left the ring pissed off, J flipped him off, jumped the railing and delivered a F5 to Vegas.
2010 season
After being screwed out of his title last night at Homiemania, Vegas started the year by demanding a rematch that night on raw. Later that night it was Dani vs Vegas for the HWE title. Vegas was dominating Dani most of the match until her husband, the returning Extreme Keene, rushed into the ring and nailed Vegas with a sledgehammer, causing Dani to retain the title. The next week Vegas teamed with Ajack to beat Dani and Keene in a tag team match. On the next smackdown Vegas appeared and challenged Dani to a match at Homielash for the HWE title. At Homielash, Vegas won the HWE title from Dani 2 Dope and Extreme Keene in a triple threat Hell in a Cell match. Now back on top, Vegas had to say goodbye to his friend Jr, who was being drafted to ECW. Shane Mcmahon announced 30/30-150 would be beaten by a new team. Just then Thunder and Tornado, The Outlanders, attacked Vegas and Jr and challenged them to a match later that night. 30/30-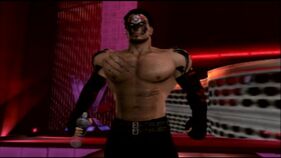 150 won the tag team match later that night. After this Vegas came to the aid of Jr on ECW the next night when Tornado got the upper hand in a match. His fued with the Outlanders ended when Keene made his mark by attacking Vegas with a chair the next monday on raw, even forcing him to tap out. On the next raw, Vegas and Keene signed a contract to have a match at Homies Judgment for the HWE title. Just then the returning Dani 2 dope broke up the contract signing and challenged them to a match. In a triple threat match on raw, Keene picked up the win by making his own wife tap out to the crossface while Vegas was on the outside. At Homies Judgment, Vegas retained the HWE title after making Keene tap out to the glam slam submission hold. The night after Homies Judgement, Kore challenged Vegas to a match. Vegas accepted and the match was made. Vegas was about to pin Kore when the God of War Kratos reappeared once again and speared Vegas. At Homies Bash, Vegas and Kratos fought in a extreme rules match for the HWE title. Kratos pinned Vegas after tossing him into a burning table. On the next raw Vegas proposed to Juggalo Joe that they join together and fight Joker and Kratos. He accepted and they attacked their enemy's together. A brawl broke out with everyone going at it. At Homieslam it was a fatel 4 way Hell in a cell match for the HWE title. Juggalo Joe managed to win the belt after pinning the Joker. The next Raw was the first part of the HWE draft and Vegas defeated The Red Skull to win a draft pick for raw. Later that week on SD!, TMO won his draft match and brought Vegas back to Smackdown. This made M make a match for the next ppv, 30/30-150 vs TNT for the Unified Tag titles. 30/30-150 beat down the rookies pretty bad for most of the match but TNT managed to win by pinning Big T pinning Jr while TMO held off Vegas. Vegas then set his sights on reclaiming the World Heavyweight title. The current champion, J, was a old foe of his, which made it more personal. At Homies Arrmaggedon, Vegas and Miss Vegas fought J and Melly mel in a mixed tag match. The fight was back and forth until MM hit miss vegas with a steel chair, ending the match via DQ. Up next for Vegas was Homies Rumble, where he entered #22 but was surprisingly thrown out by Z. Vegas then fought in another mixed tag match with Melly Mel vs J and Mystique at Homies Way Out. Vegas was dominating J throughout the match and got so consumed with beating J down, beat him with a chiar, causing J to win by DQ. Then Vegas and J would finally face off one on one at Homiemania with the World Heavyweight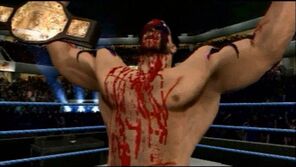 title on the line. Vegas and J battled it out for a long time in and around the ring, both men bleeding a lot. But in the end J caught Vegas in the Anaconda vise and made Vegas tap out. As J celebrated his title defense, Vegas layed on the ground bleeding and enraged. But all of a sudden M came out and made a announcement. He gave Vegas a choice. If Vegas joined M and the Black Sun Society M would continue the match, 2 out of 3 falls. Vegas accepted and quickly rolled up J from behind. Then Vegas commenced a hellacious beat down of J and after numerous finishers, Vegas pinned J and reclaimed the world title. Vegas then shook hands with M and celebrated his win. Vegas pulled a stone cold and sold his soul for the world title. After the match he tried explaining the situation to Jr, but Jr didnt want to here it.
2011 season
Vegas began this season as a heel and head wrestler of the Black Sun Society. He realized MK would soon be after him since MK was the other top dog on Smackdown. On the first smackdown of the season MK and Vegas brawled in the ring. At Backlash J refused to compete under M's orders so Vegas had no opponent for the night. MK decided to cash in his MITB to get a world heavyweight title match. Vegas and MK fought for a good while until Mystique ran to the ring, and hit MK, ending the match via DQ. This meant MK won the match, but not the title. MK was furious over being screwed out of his MITB shot. As MK let out his anger in the ring, Vegas kissed Mystique on the stage. On the next Smackdown Vegas talked with his old friend, trying to convence him to help
him take out MK. Jr relunctlly agreed and 30/30-150 attacked MK and the Grand Disciple backstage. But MK had the last laugh, sending Vegas into the soda machine. At TLFC, M told Vegas once he beats MK that night in their TLC match, hold him down so he could take his soul and grow stronger. Vegas agreed. Vegas and MK engaged in a brutal and wild TLC match at the ppv. Vegas was winning until MK got the upper hand. This caused M to come down and hold off MK to help Vegas win. But all of a sudden J made his return, and took out M and Vegas to allow MK to climb up the later and take the title from Vegas. Vegas then became the pro of NXT rookie Sudden Death on HWE NXT. On the next Smackdown, the Black Sun Society's plan began to be set in motion. M told Vegas to be incharge till he got back. Vegas fought J and WH champ MK in a triple threat match, which he lost after MK pinned him. A Homies not so well in a cell, Vegas donned a new suit of black armor that seemed to possess powers. He kissed Mystique and went out to fight. During the triple threat hell in a cell for the WH title, Vegas' armor began to electrify. It began to glow and he became a unstoppable monster. He beat down both men and then pinned J to reclaim the World Heavyweight title. Vegas would play a huge role in M's master plan at Homies Bragging rights. First off he had to try to get his old friend Jr to join the Black Sun Empire. Jr refused and now Vegas had to focus on his match later that night.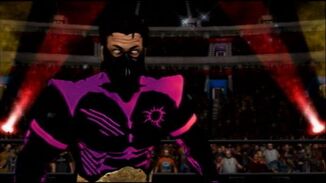 Vegas then went to bitch to Vince but Big T came in and after trying to take Big T's title, Big T smacked him in the face with his title. Later that night it was Big T vs Vegas in a extreme rules match. It was the first time Vegas and Big T ever fought one on one against each other. In the landmark match, Big T and Vegas went to war at one another. Vegas overpowered Big T due to his armor and even added insult to injury by using Big T's own move against him. After a close match Vegas came back with a spear. This was then followed by a punt that knocked Big T out. Vegas won the match and watched happily as Big T was wheeled out on a stretcher. Vegas then took part in M's Kombat. He would fight Lu Kang and Juggalo Joe in the first round. Vegas would defeat both of them and make the pin on Liu Kang, advancing to round 2. Before his next round match on smackdown, he warned TMO to get away cuz M would try to kill him. TMO called him a sell out and walked off. In round 3 of M's Kombat, he fought a MK Kombat and Lucky T. After 2 stunners, Vegas pinned Lucky T and advanced to round 3. In round 3 Vegas fought a MK Kombatent and MK in a Hell in a Cell match. Vegas was dominating the match until MK began to beat him down. All of a sudden, Lucky T appeared in Black Sun Empire gear and aided the Vegas in the match. He attacked his rival MK and gave the match to Vegas, advancing to the finals against Kore and Shao Kun. In the grueling final battle, Vegas was very close to becoming undisputed champion but was stopped by Kore, who won the vacated title. At Homieslam, Vegas was jumped by Flash Gorden backstage. After being hit by a car, Flash took down Vegas. Later that night in the main event, Vegas retained his world title against TMO, despite Big T's surprise return. Vegas then entered the annual Homies Rumble match to try to get both world titles. He entered in at #26 but was eliminated. On the WCW episode, Vegas signed a contract to fight Juggalo Joe in a WH title match at Night of Chumpions, only to have the Homies Rumble winner J interfere. To add to his trouble, Vegas was attacked by TMO, vengeful still from Homieslam. Vegas powerbombed him off the stage for his troubles. Vegas fought Juggalo Joe tooth and nail at Night of Chumpions, until Mystque appeared and attacked him. This set up JJ for a final attack to take Vegas' World title away from him, ending his 8 month reign. At Homiemania, Vegas seen backstage with various other wrestlers, including taking a mysterious briefcase. In the six man Hell in a Cell match, Vegas was dying to win back his belt. He dominated most of the match, eliminating champion Juggalo Joe, Rocky Blade, and powerbombing Nizzo off the cell. He made it to the final three against TMO and Big T, the two men he wronged in teh past year. Vegas was dominated both until Mystique interfered, hitting with a chair, setting Big T up for the swanton bomb and the pin, eliminating Vegas from the match. Following his elimination from the match, Vegas' mask is shown off on the ground. He appears as Stephanie's chosen wrestler when she offers a challenge to M. While M mocks him and tells him the armor is no good without the mask, he and his former boss trade blows. Just as M was going to steal Vegas' soul, his old partner Junior and Bocker show up and help him finish off M, winning the match.
Homiemania Revenge Tour
Following his control of HWE, Vegas and Junior along with Brocker head to Liberty City. There they partied and did what they wanted. While there 30/30-150 had a rematch with the dysfunctional TNT. Following the tag match, Vegas noticed the Soul Stalkers at ringside and tried to fight them off with Junior, however The Grand Disciple gave Vegas a concarto and injured him.
2013 Season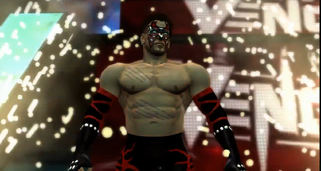 Vegas' first sighting during the new year was on the beach of Liberty City, where he was standing talking with Lucky T. They talked about escaping M's control and about raising a army against him. Vegas' first match of the year was against his former ally, the Dead Skull. The two went back and forth until the tide turned in Vegas' favor, prompting the Dead skull to play it safe and leave, leading Vegas to win via count out. Following this, he fought Grand Disciple in a extreme rules right after, leading to his defeat. Following this loss a few weeks later, Vegas appointed Knuckelhead to challenge Grand Disciple for the United States championship, which he won. Following this, Vegas rescued T-bone from M and Onikage, giving M a stunner for his troubles. The war with the Black Sun Empire came to a climax, as Vegas fought M in a inferno match for control of HWE. Vegas fought valiantly, but the battle would be his last. M put him in his famous hold, and stole his soul, performing a fatality, killing Vegas.
HWE Earth 2
On another earth, Vegas is another member of HWE. During the first week of the league, Vegas lost a match to Ajack.
Championships and Accomplishments
HWE
4x HWE champion
3x HWE World Heavyweight Champion
2x HWE World Tag champion
1x HWE tag team champion
Part of 30/30-150
HWE Hall of Fame 2008
HWE King of the Ring 2008
HWE Slammie Award winner - Homie of the Year (2012)
HWE Earth 2
1x HWE tag team champion (inaugural & current)
DKW
2x DKW World Heavyweight Champion
Tag Teams
30/30-150: A legendary tag team consisting of Vegas and Steve Larkins Jr. They have won numorus tag titles and hardly ever lost.
Ad blocker interference detected!
Wikia is a free-to-use site that makes money from advertising. We have a modified experience for viewers using ad blockers

Wikia is not accessible if you've made further modifications. Remove the custom ad blocker rule(s) and the page will load as expected.