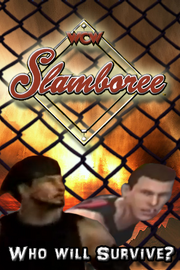 WCW Slamboree 2 is the second edition of WCW's first ever CPV. Slamboree gets its name from World Championship Wrestling's (WCW no. 1) pay per view of the same name, which aired from 1993-2000.
Match Card (Preshow)
U. S. Title Match: Bret Hart defeated Sultan Shetty to win the U. S. Title.
World Tag Team Title Match: Random Mexican KKK defeated Lucas Gomez & Alladin Hassan (Vertex) to retain.
Main Card
Drake Evansen defeated Mike Angel
Triple Threat match for the Cruiserweight Title: The Miz defeated Justin Gabrial and AJ Styles to retain.
Steel Cage match: Loser leaves WCW. Evan O'Shea defeated Shawn Dynasty. Shawn's WCW career comes to an end.
Intercontinental Championship: Matt Eichorn defeated Steven Spriter to win the Intercontinental Title
Bunkhouse Match: Jalin Brown defeated Haduken
Stone Cold Steve Austin defeated Caylen Rogers
Triple Threat match for the WCW Championship: The Suspect defeated Rick Acid and Lemarcus Carter to win the WCW Championship.
Ad blocker interference detected!
Wikia is a free-to-use site that makes money from advertising. We have a modified experience for viewers using ad blockers

Wikia is not accessible if you've made further modifications. Remove the custom ad blocker rule(s) and the page will load as expected.