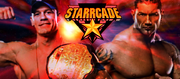 Starrcade is World CAW Wrestling's big mega cpv. It brings the first season of WCW to a close and also is the last cpv before WCW moves from Smackdown vs. RAW 2010 to Smackdown vs. RAW 2011. Starrcade gets its name from World Championship Wrestling's ppv of the same name, which ran from 1983 to 2000.
Match Card
Preshow: Triple Threat Match. (Winner will get an Intercontinental Title Match against Haduken later on in the show.) Shelton Benjamin defeated Sid Vicious &. United States Champion Scott Steiner.
DJ (with Nena Boston) defeated Stardust
TX3 (c) lost to The Miz for the Cruiserweight Championship
Haduken (c) vs. Shelton Benjamin didn't take place because Shelton Benjamin was viciously assaulted backstage.
The Damage Gauge (c) defeated The Random Mexican KKK for the World Tag Team Titles in a Steel Cage Match
Shawn Dynasty wins The WCW MITB Match.
John Cena (c) lost to Batista for the WCW Championship
Ad blocker interference detected!
Wikia is a free-to-use site that makes money from advertising. We have a modified experience for viewers using ad blockers

Wikia is not accessible if you've made further modifications. Remove the custom ad blocker rule(s) and the page will load as expected.