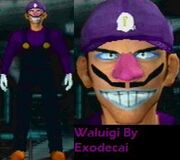 Info
Waluigi is a character from the Super Mario Bros. Series. He Made his CAW Debut in 2004 in ACWL, since then Waluigi has become a surprisingly high card competitor, shocking fans by winning the big one in some caw leagues. Some people may even call Waluigi "Mr. Controversial". There are also some leagues where Waluigi is often teaming with his brother in crime, Wario
Signature & Finishing Moves
The Waluigi 50 (450 Splash)
Sweet Mischief (Superkick)
The Poison Mushroom (A forward Russian Leg sweep Face Plant)
Nintendo DX
Perhaps Waluigis most noticeable role in the CAW World would be him and his brother Wario starting up a faction called Nintendo DX, the stable all started in video game Super Mario Strikers, where Waluigi after scoring a goal, would sometimes do the signature DX Crotch Chops. This lead to the creation of Nintendo DX in the CAW World, while not lasting long, it was a great "Comical Relief" Team.
Notable Feuds
Here will list a bunch of people that Waluigi is noted for feuding with:
Championships & Accomplishments
Ever Since Waluigi has debuted, he has made a various amount of accomplishments, these include
Allan's Championship Wrestling League
1x ACWL Canadian Heavyweight Champion
1x ACWL World Heavyweight Champion
1x ACWL Tag Team Champion With Wario
BMW
1x BMW World Tag Team Champion (1x w/Wario)
CXWI
MCW
1x MCW World Heavyweight Champion
National Internet Wrestling Alliance
1x NIWA World Tag Team Champion (1x w/Wario)
WTF
1x WTF World Heavyweight Champion
Other Notes
During the March 5th, 2007 edition of the 10 Minutes of Xtreme radio show, XtremeTony had Exodecai as a guest, and out of no where. Waluigi came in the studio & caused havoc. To keep things in order, XtremeTony ordered future TWF Superstar & then 10 Minutes of Xtreme Bodyguard, Jesus Jones to shoot Waluigi
New Age Wrestling
Waluigi was in NAW New Age Wrestling for a short while but after a little over a month in the company he was released. He had won a few matches but the majority he had lost. He was signed back to NAW South and won the "ACWL" World Heavyweight Championship at NAW Anarchy Anniversary 2010. He would be released when NAW South would end.