Possibly the worst CAW league ever... or second worst, to WWEnterprise
World Wide Championship Wrestling
Details
Acronym
WWCW
Establishment
2010, 2011
Owner(s)
David Del Rio Sean Evans Allise Montel
Staff
Big Bills Hells(Owner) Sean Evans(Co-Owner) Allise Montel (Script Writer)
Formerly
 ???
Website
http://WWCW2010.webs.com
Moto
"We will do whatever it takes to rise to the top!"
Reality
except buy proper recording equipment. $10 Capture Card is far too much money.
And to get to the top, we outright steal other peoples videos and then delete peoples comments to pretend we didn't. It doesn't work, though...we only have like 20 subscribers, the majority of which are watching to laugh out how terrible the show is. We also self overpush, which is a a major problem in CAW. The owner also for some reason decided to open up multiple pointless accounts and sporadically and unpredictably uploads episodes across them, making this already hard to watch fed completely unwatchable and near impossible to keep up with.
Closing
Unable to accept the truth about WWCW, combined with the untimely death of Eddie Domainian, MrTheMiz2010 announced on December 30th, 2010, that WWCW would come to an end.
Roster
MNW Superstars
Matt Vine
Matt Hardy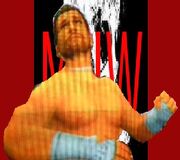 The Miz
Carlos Sanchez
Gary Frank Simpson
Kurt Angle
Rey Mysterio
The Rock
Lil Biza
Niel Roll
John Cena
FNW Superstars
Suspect
Mahatma Achmed
Kuneai Achmed
Davari Achmed
Rock Riley
Edge
Rob Van Dam
Pakman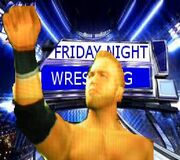 Sid Vicious
Brock Lesnar
Goldberg
Teryo Law
WWCW Alumni
Colt Robanna III
Triangle
Square
Nick Domainian
James Taylor
Shawn Harris
Tag Teams & Stables
Suspect & Eddie Domainian
The Indian Salitories (Mahatma Achmed, Kuneai Achmed & Davari Achmed)
The Worlds Greatest Tag Team 2 (Matt Eichorn, Kurt Angle & Sid Vicious)
The Whole F'n Pak (Pakman & Rob Van Dam)
Last WWCW Champions
Friday Night Wrestling
Controversy With New-WWE
New-WWE's Burb hated WWCW's style of CAW. She hated how we took other "Entrances" from Youtube, but WWCW fixed that and now BurbMEERKAT and MrTheMiz2010 are now friends. Shortly afterward, Eddie Domainian died.
Christopher Jericho Injury (August 10, 2010)
The Chris Jericho injury was one of the most serious injuries in WWCW. Four months ago Jericho got a concussion in a bike accident ramming his head into a Steel Gate Door. Jericho returned on October 16, 2010 with the fullest success of putting Ric Flair through a table by doing the Bulldog.
Purchase By Big Bills Hells
After Closing, Big Bills Hells Would buy WWCW, later proclaim themselves as the last WWCW Champion, and then Abandon the company, leaving it to rot in the "Hall Of Shame" forever
2011 Relaunch
on 3/6/11, SirBarrett2011 posted a vid stating the fed's return for 3/11/11. "epicness" awaits, including the imposter cyberdomanian
WWCW Websites
http://wix.com/EddieMadison/wwcw2011
http://z7.invisionfree.com/WWCW_2010_Forums/index.php?act=idx
http://www.dailymotion.com/MrTheMiz2010#hp-h-8
http://youtube.com/MrTheMiz2010
Awards
Year
Award
Category
Result
2010
Something CAW Awards
Worst Production Value
Won
Worst CAW Show of the Year
Won
Ad blocker interference detected!
Wikia is a free-to-use site that makes money from advertising. We have a modified experience for viewers using ad blockers

Wikia is not accessible if you've made further modifications. Remove the custom ad blocker rule(s) and the page will load as expected.